Products
>> RotoCone Vacuum Dryer - cGMP
The Platinum Pharmatech Rotocone Vacuum Dryeris an Innovative, Integrated device addressing Mixing & Drying in a single enclosure. The key design goals being EASY TO CLEAN, 100% Discharge of Raw materials apart attaining high degree of Drying. Better shop floor aesthetics and easy to operate the device lowers significantly costs of operations, labor. The dryer can be used with equal efficacy across Chemical, and processed foods with great success.

MOC:
SS 316 for all contact parts and SS 304 for non contact parts.

Please note all contact areas are built and final finishing achieved by the use of Corrosion resistant polymer coatings such as TEFLON, Haler.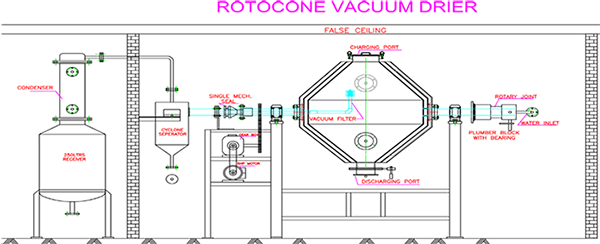 Features
Mechanical seals for hot-water connection
Mechanical seals for Vacuum connection
Steam line connection & digital temperature and pressure gauges for monitoring
All the measuring instruments are calibrated
Easy to clean internal surface
Technical Specifications
| | | | | | | | | |
| --- | --- | --- | --- | --- | --- | --- | --- | --- |
| Model | G.cap Ltrs | W.cap Ltrs | RPM | Cyclone in Ltrs | CondenserIn M2 | Receive inLtrs | MotorHP | Gear Box |
| PPTRCVD50 | 50 | 20 | 8 | 1 | 0.1 | 3 | 1 | 2" |
| PPTRCVD100 | 100 | 40 | 8 | 5 | 0.5 | 20 | 2 | 2.5" |
| PPTRCVD200 | 200 | 75 | 8 | 7 | 0.75 | 40 | 3 | 3" |
| PPTRCVD300 | 300 | 115 | 6 | 10 | 1 | 50 | 3 | 3" |
| PPTRCVD500 | 500 | 185 | 6 | 15 | 1.5 | 75 | 5 | 5" |
| PPTRCVD750 | 750 | 280 | 6 | 20 | 2 | 100 | 5 | 5.54' |
| PPTRCVD1000 | 1000 | 375 | 6 | 25 | 2.5 | 150 | 7.5 | 6" |
| PPTRCVD1500 | 1500 | 560 | 6 | 30 | 3 | 200 | 7.5 | 6" |
| PPTRCVD2000 | 2000 | 750 | 6 | 40 | 4 | 250 | 10 | 6" |
| PPTRCVD5000 | 2500 | 940 | 6 | 50 | 5 | 300 | 10 | 8" |