Products
>> Tray Dryer With A H U with out contamination (100% Cleaning) - cGMP
Platinum Pharmatech is a pioneer in Tray Dryers, with a wide range. Well appreciated for its durability and robust construction, these Tray Dryers are built to various specifications as per the client requirements. Platinum pharmatech Tray Dryers are available at most competitive prices.

Final finish of The Tray Dryer, design and manufacture, is as per cGMP Standards and has aesthetic looks. It is buffed externally to 150 grit Matt finish and internally buffed to 220 grit mirror finish.

Electrical Heating: The Air inside the Tray Dryer is heated by a "U" shaped tube (SS 304) air heater each of 1 KW. The heaters are fitted on the sides of the dryer to facilitate uniform heating. Maximum temperature attained inside the dryer is 100' C and will be indicated and controlled by a Digital Temperature indicator cum controller over full range of heating load.
Total Heating Load is, for 48 Trays Dryer - 12 KW for 64 Trays Dryer - 24 KW
The heaters are inserted inside the tubular pipe to prevent it from becoming RED HOT. The terminals of the heaters are fixed outside the dryer to ensure safety of operations for solvent based products.

Air Circulation: Inlet Air Plenum (Optional): Hot Air A.H.U made with 2mm thick SS 304 Sheet pre- fabricator unit of Capacity 2000 CFM, with 125mm/w.g. Static pressure. Blowers are made with SS 304 Sheet Capacity 2000 CFM at 150 mm/w.g. Static pressure and 3 HP 1440 RPM FLP type motor (Make: Crompton) Filtration down to 20/10/3 micron pre and fine filters and 0.3micron HEPA Filter (make:Ultrafil) conventional type HEPA Filter Box type with Aluminum anodized frame effect 99.97% down to 0.3micron (H13 grade) Media imported glass fiber paper, High temperature 150 degree C, super flow 2000 CFM Cap. No. of air changes in the Tray Dryer Unit 950 per minute (Class: 1000) Area is 63 CFt with steam coil provision. Range: 150°C, 250°C, 450 Air inside the dryer is circulated by a heavy duty axial flow SS 304 or aluminum blower fitted on a shaft and driven by l HP through belt. The special design of the Blower ensures uniform air circulation so that there is uniform air current over the entire charge loaded in the Trolley inside the dryer. The working of the motor is indicated by lamps in the control panel.
Inner Chamber cleaning is very easy, Air Flow Filter Air 99.995% efficiency. Providing the Temperature sensors at 8 corners of the Dryer interior maintain the temperature of the Dryer by using the inlet temperature controller. another 8 channel temperature scanner provides the display & printout of the 8 channels as per user requirement. (use for any different product but not Contamination)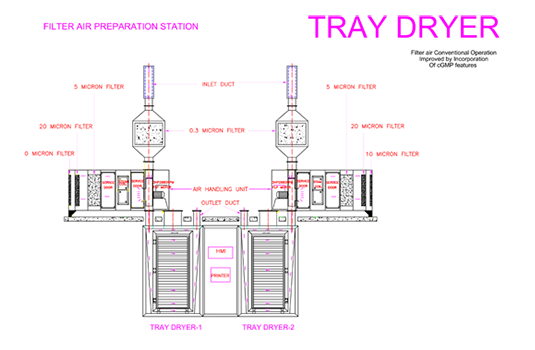 Trays: Trays are manufactured from 1.6 mm SS 304 sheets. Its dimensions are 812X 406 X 31 The Trays have rounded corners with' mirror finish, both interior and exterior. SS 316 quality is available on demand.

Racks And Trolleys: Racks are provided for trays inside the Dryer. For 48 and 64 Trays models. racks are provided with wheels to slide them in and out of the Dryer. additional SS trolley for racks for outside movement can be provided on request.
Technical Specifications
MODELS

Capacity in KGs

No of Doors

No Of blower /No of Motors/HP

NO of Heaters/k. w

No of steam coils

No of trolleys

No AHU

No Filters

PPT-TDAHU-12

30

1

1/1/0.5

12/6
1no

1 Box Type

Rack System

1

4

PPT-TDAHU-24

60

1

1/1

12/9
1no

1 Box Type

Rack System

1

4

PPT-TDAHU-48

120

1

1/1/2

12/12
2no

2 Box Type

1

1

4

PPT-TDAHU-64

160

1

1/1/3

12/18
2no

2 Box Type

1

1

4